Social Media Wins the Election: From Facebook to HootSuite to Drinking Game Infographics
By Rosalie Morton | Follow me on Twitter @rosaliemo
4 Comments
Posted on: November 7, 2012
By Rosalie Morton, @rosaliemo
Although the real winner last night was Barack Obama, social media stole the show, providing interesting insight to election stats and answering many of our questions about the election  in real-time.
And so, we break from our regular Booze Bin coverage to bring you a look at how social media ruled the election…
Who voted? Check Facebook
The execution was just beautiful… You probably saw it at the top of your Facebook  page, asking you if you voted. If you chose "I voted" you were taken to their story page. It showed who was voting and when, across Facebook users in the U.S.:
http://www.facebookstories.com/vote
When viewing the page, you have to keep in mind that these stats represented Facebook users who clicked an Election Day prompt to share with their friends, not the general population. The page revealed the following stats:
Votes per Hour – between 12 p.m. and 3 p.m. tended to be when most people shared that they voted
Who's voting –

Male v. Female – Only 3.3 million male, and a whopping 6.4 million female. Obviously, this said more about who was sharing than who was voting…  Women were more likely  than men to share the fact they were exercising their right.

By age:

29 percent 18-24 years old
31 percent 24-34 years old
19 percent 35-44 years old
Who's winning? Check HootSuite
Who was leading on social mentions? HootSuite had their finger on the pulse. Through their 2012 Election Tracker: http://hootsuite.com/2012-election-command-center, HootSuite tracked which candidate was getting a larger share of voice in the social sphere. At 10:20 p.m. EST last night, the site was so slammed, it took three tries to load. The tracker showed Obama was leading in online share of voice, with 2.6 million "talking about this" as compared to Romney's 2.4 million "talking about this." On the other hand, Ryan led Biden in mentions. The real indicator, given the outcome of yesterday's election? The sentiment graphs:
When should I drink? Check the Infographics
Infographics have become very popular in the last two years – an easy way to disseminate information in an aesthetically pleasing way. It was funny to see the inundation of drinking game infographics come through during this election cycle.
The infographics offered some comic relief from a very tense election. From the Presidential debates to the Vice Presidential debates, there were quite a few fun one-liners and overly-repeated phrases, and these infographics took advantage.
i.e.: Joe Biden: DRINK if he makes a gaffe (like calling Obama "Barack America")
Barack Obama: DRINK if he says, "Let me be clear"
Mitt Romney: DRINK if he brings up Ronald Reagan
Paul Ryan: DRINK if when tries to get a laugh from the "fire Big Bird" incident.
During the Presidential Debates:
During the VEEP debates: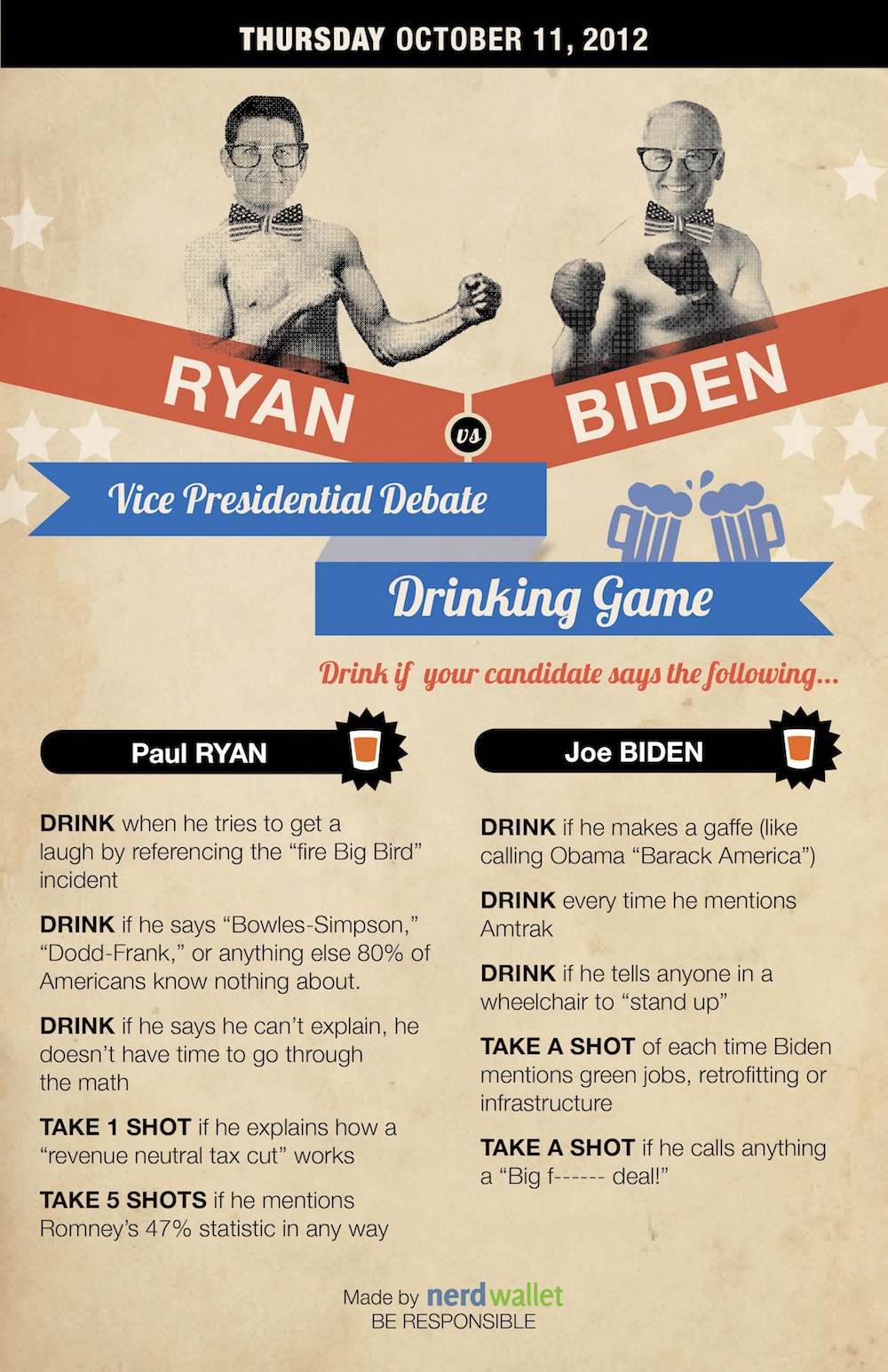 So, what were your social media observations this election cycle?